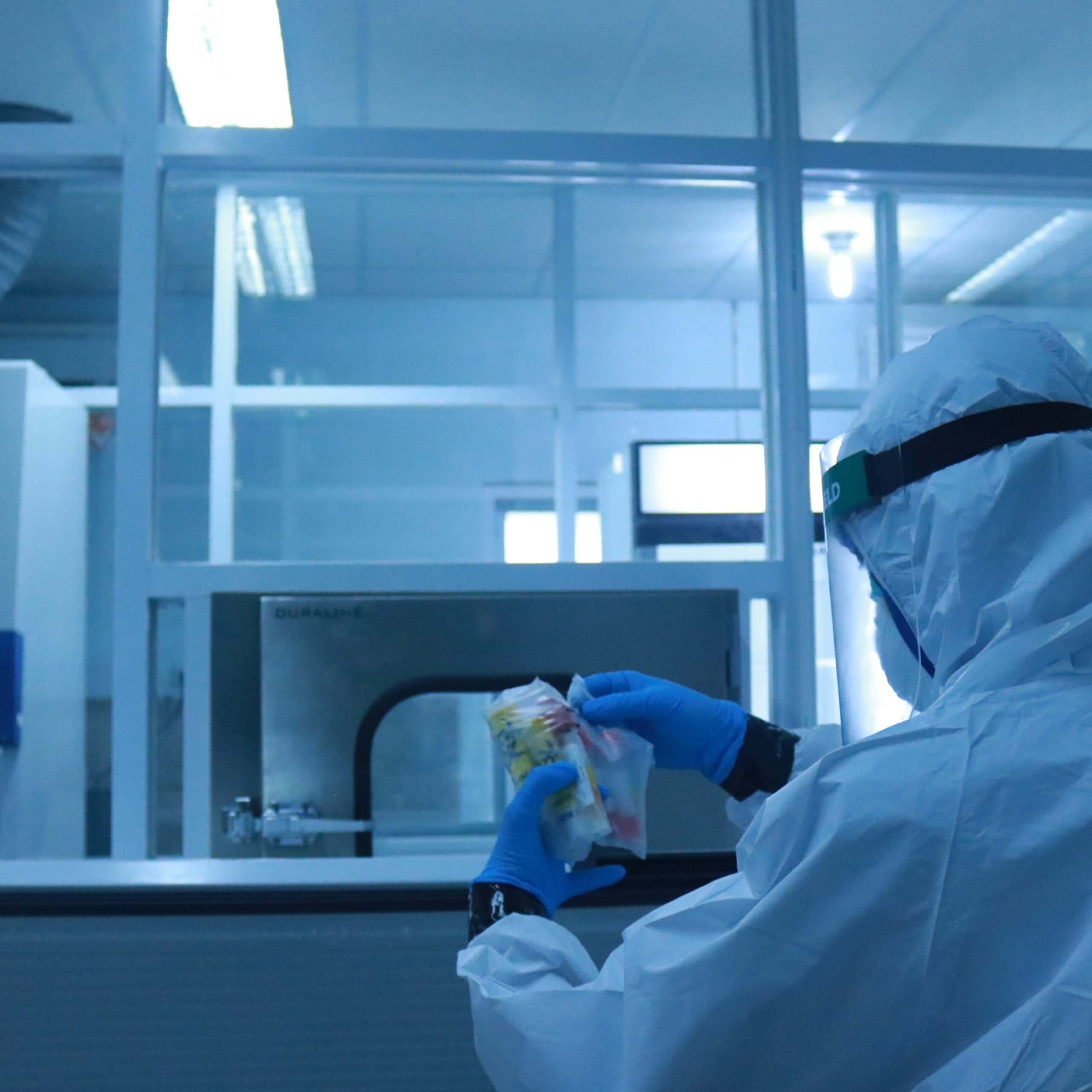 Back
October 28, 2022
|
Blog
|
10 minutes
Pharmacovigilance To Stay On Top Of Drug Safety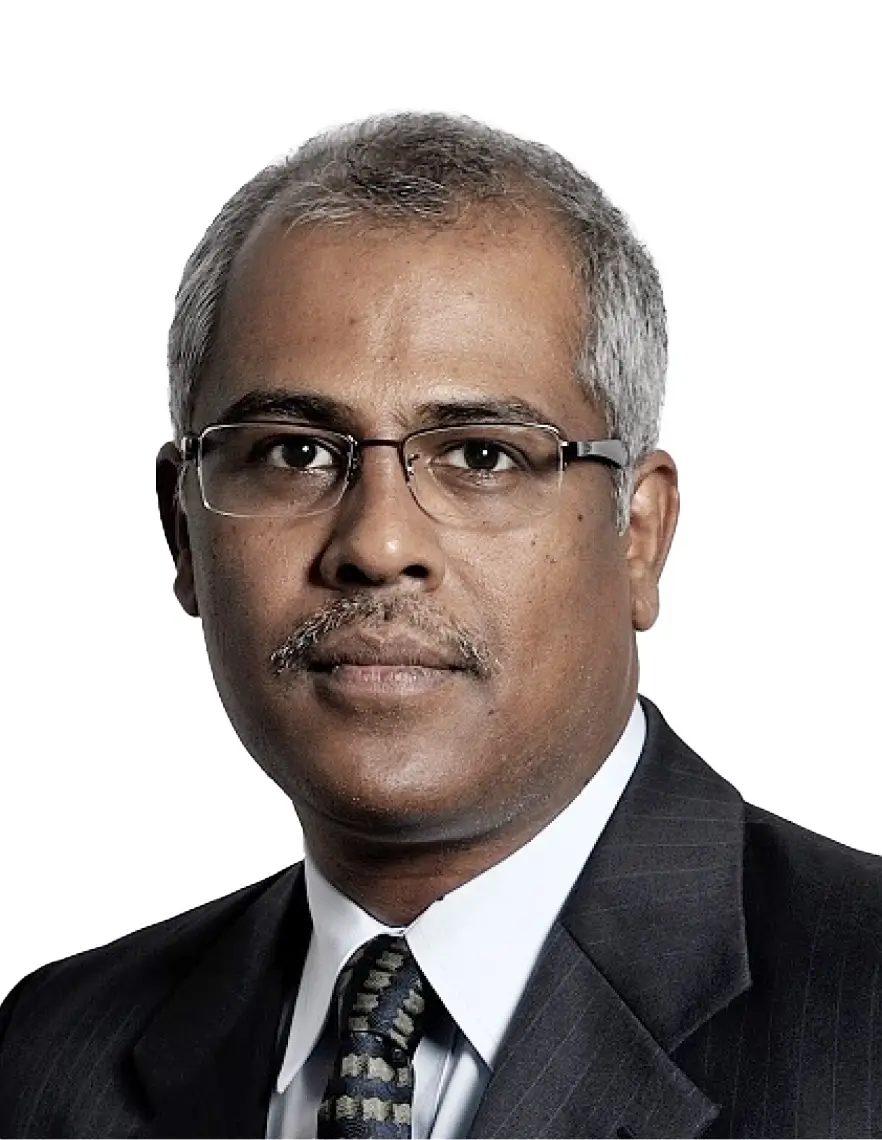 BALAJI KRISHNAN
CHIEF OF CUSTOMER SUCCESS
Introduction
Did you know?
All vaccines and drugs undergo regressive preclinical and clinical testing for efficacy and safety to get authorized for use.
Medicines and vaccines prevent and treat diseases; however, they also have some undesirable and/or unexpected side effects along with their benefits. It is where Pharmacovigilance comes into action.
The role of Pharmacovigilance is to assess whether the usefulness or effectiveness of a drug to combat diseases outweighs the risks in terms of side effects, serious or non-serious adverse reactions associated with the drug.
Pharmacovigilance is nothing but a drug safety measure that is monitored in the form of adverse drug reactions not only while the drug is under clinical trials but even after it has been approved for market use. In premarket phase drug is under Clinical trials which are conducted under a limited population and on fewer patients. Therefore, it is impossible to uncover all the side effects of the drug as trials do not include high-risk patients, different age groups, and all comorbidity aspects. "Pharmacovigilance is critical in ensuring ongoing safety and efficacy of medicinal products." Pharmacovigilance is the science and activities relating to collecting, monitoring, researching, assessing, and evaluating information from healthcare providers and patients on the adverse effects of medications and biologics. However, despite all their benefits, evidence continues to show more extensive adverse reactions to medicines that are common yet often preventable and cause illness, disability, and even death. In some countries, adverse drug reactions (ADRs) rank among the top 10 leading causes of mortality. To prevent or reduce harm to any patient, the mechanism for monitoring and evaluating the safety of drugs is vital
Pharmacovigilance process workflow
Following diagram depicts the typical end to end workflow of the pharmacovigilance process generally followed by pharma companies.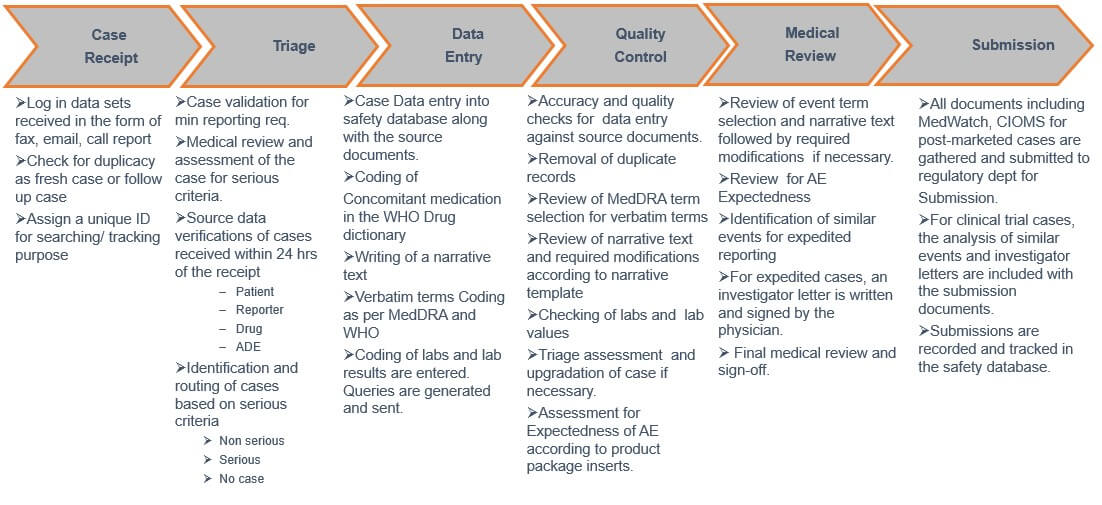 How did the Pharmacovigilance process evolve? 
The process of Pharmacovigilance was not formalized until 1960. Then, the tragedy of thalidomide, one of the biggest disasters in the history of medicine, marked the turning point for drug safety evaluation.
The tragedy of thalidomide brought light to many problems and critical issues, in particular, the reliability of animal tests, the behaviour of the industrial company, and the importance of monitoring the drugs after their marketing. In particular, this tragedy evolved the process of Pharmacovigilance.
PV is crucial during the clinical research phase of drug development to ensure it is safe for distribution, but it is also vital to continuously monitor the drug. Post-market safety monitoring is the only way to get an accurate picture of a drug's safety when the drug is exposed to a much larger population for use and ensure adverse events are reported adequately for review, for instance, through the FDA's MedWatch gateway.
Major drug withdrawals
Some medicines that were withdrawn from the market and eventually resulted into the evolved Pharmacovigilance process we see in current times.
Sibutramine - Despite being a helpful drug in obesity treatment, it was withdrawn from the US market in 2010 due to its safety concerns, especially regarding cardiovascular health. Some common side effects of Sibutramine are dry mouth, headache, insomnia, asthenia, obstipation, and sometimes amnesia.
Valdecoxib - Another drug that was voluntarily withdrawn from the market was Valdecoxib. It was withdrawn in 2005 due to safety concerns of increased risk of CV events and reports of severe and potentially cardiovascular hazards and life-threatening skin reactions, including death.
Rosiglitazone - The next drug on our withdrawn drug list is Rosiglitazone. This drug got suspended from the market in September 2010 due to the increased risk of ischemic heart disease.
The failure of these drugs raised the importance of giving attention to evaluating study protocols of safety trials before their start.
History And Evolution of Pharmacovigilance
Pharmacovigilance started about 170 years ago but was not named as such at that time. The historical phases and tragedies helped us understand why the pharmacovigilance process is essential to approve any medicine/ vaccination. Let's have a look at all the milestones that led to the evolution of Pharmacovigilance!
1848 – The 15-year-old patient died while performing anaesthesia with chloroform. It caused ventricular fibrillation, leading to the patient's death.
1893 – Lancet initiated a foundation and started collecting information about side effects.
1936 – 107 cases after sulphanilamide in the USA.
1938 – As per the US Federal Food And Drug Act, "the pharmaceuticals should be pure and free from contamination.
1951-1961 – The Thalidomide Tragedy
1961 – Over 4000 cases worldwide reported about a 20% increase in fatal abnormalities and phocomelia concerning Thalidomide use.
1962 – USA Kefauver-Harris amendment to the law
1963 – Resolution WHA 16.36 reaffirmed the need for early action concerning adverse drug reactions.
1964 – UK started the "Yellow Card" system
1965 – The first European directive – EC directive 65/65 to establish and maintain a high level of protection for public health in Europe.
1968 – Pilot Project by WHO was started to gather adverse drug reactions from multiple countries.
1997 – ICH E2B adopted the Electronic Reporting standard
1999 – Revised MedWatch, draft MedDRA, Institute of Medicine – report on errors and risk issues, Introduction of risk management concepts
2001 – Post-marketing safety reporting guidelines by FDA. It highlighted how to report adverse events in the post-marketing phase.
2002 – Prescription Drug User Fees Acts (PDUFA III) allowed FDA to charge fees, monitor risk post-approval, and require companies to monitor risks for 2 years post-approval.
2004 – Draft risk management guidelines
2005 – Final risk management guidelines (specifies how to perform signal detection, risk assessment and risk mitigation)
2007 – FDA Amendment Act
2008 – Volume 9A in EU
2010 – New IND Reporting Rule, European PV legislation passed
2011 – Volume 10 (Eudravigilance)
2012 – European PV legislation effective (UK SI 2012 No 1916)
2014 – MHRA Good Pharmacovigilance Practice for Medicines (Dec 14)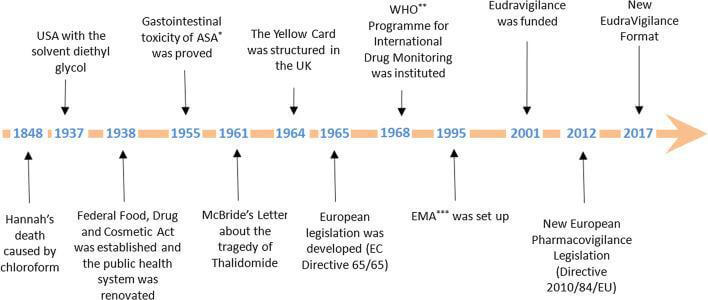 Challenges In Pharmacovigilance
Pharmacovigilance is an essential but challenging process. Some of the challenges in this field are briefly discussed below.
#1. Inconsistent Reporting of Adverse Events and growing volume of adverse events
Adverse events can occur several hours after administering the drug. There are chances that patients might not be able to remember all the side effects and fail to report them accurately. There are chances that patients see symptoms of anxiety as adverse drug effects and report them to their healthcare providers. Sometimes patients fail to follow instructions during medication or experience side effects due to the concomitant drug they're taking along with the study drug. Such wrong reporting can lead to incorrect conclusions, leading to the suspension or withdrawal of drugs from the market.
The trend for increased reports have been observed for drug products used for prophylaxis and treatment of Covid 19 . The adverse event workload is rising by 50% every year in few pharma companies. This is diluting the focus on serious adverse events needing immediate attention.
As per the Adverse drug event study by Tufts University in Sep. 2015:
- Underreporting : 40% of HCPs have never reported an ADE
- Duplicate records
- 60% of HCPs say it is difficult to determine if the drug has caused the ADE
Solution: Artificial Intelligence in adverse event processing
Although the US FDA is broadly exploring the use of AI for PV, we focus on the application of AI to the processing and evaluation of Individual Case Safety Reports (ICSRs) submitted to the FDA Adverse Event Reporting System (FAERS). We can easily integrate AI into some aspects of ICSR processing and evaluation, but the performance of current AI algorithms requires a 'human-in-the-loop' to ensure good quality. However, some outstanding scientific and policy issues should be addressed before the full potential of AI to exploit for ICSR processing and evaluation, including approaches to quality assurance of 'human-in-the-loop' AI systems, large-scale, publicly available training datasets, a well-defined and computable 'cognitive framework,' a formal socio-technical framework for applying AI to PV, and development of best practices for integrating AI to PV. Nevertheless, we believe that the stepwise implementation of AI for ICSR processing and evaluation provides a foundation for the further development of AI approaches to other aspects of PV.
#2. Spontaneous Reporting Issues
Anyone can report the adverse events - patients, companies, or the HCP. However, there are chances of under-reporting adverse events in the post-marketing databases. Sometimes, the medical staff does not prioritize reporting and may neglect symptoms that are not serious. It can happen due to the workload increase on medical staff. Another concern is the misreporting and miscoding of adverse. For example, the fields in reports about dosage, formulation type, time, and length of exposure to adverse events are not clearly reported and coded, leading to challenges in managing and analysing the data. It also leads to the generation of false alarms for non-existent adverse events. HCPs generally select treatments based on their practice preferences; also, the inadequately adjusted algorithms could produce errant false signals. Inadequate analysis of such signals may lead to early refusal of valuable drugs.
Solution:
The potential solutions suggested for improving spontaneous reporting were to define the kind of ADRs which should be reported:
- To facilitate easy contact and quick access to the hospital pharmacovigilance system,
- To enable information and support for reporting and feedback on pharmacovigilance activities.
#3. Analysis of Electronic Health Records (EHR)
EHR provides a great wealth of information about real-time and real-world medication usage. However, a few limitations include the unstructured narrative information that is complicated to analyse. In addition, the medical industry collects a dazzling array of data daily, making it difficult for professionals to analyse the data and raise signals.
Solution: Data Mining
Data Mining on Electronic Health Records has emerged as a promising solution in Pharmacovigilance. As we know, gaining insights about any particular drug requires a lot of data. Gathering this data requires a lot of time and effort. Data Mining can be used to review many reports with the NLP technique. Moreover, advanced surveillance systems can be integrated into the PV system to identify drug safety signals and facilitate reporting of suspected adverse drug reactions.
#4. System Integration
The pharmaceutical industry relies on various systems, including clinical trial management systems (CTMS), clinical data management systems (CDMS), product performance systems, clinical coding applications, and CRO systems for pooled data analysis. Moreover, signal definitions, medical domains, medical coding's, and adverse events must be appropriately standardized for signal analysis. However, standardization is the biggest challenge in Pharmacovigilance as there is no standard framework to allow system integration. Though the agreed file format to be used is XML; however, it is not implemented.
Solution: Blockchain
This is where blockchain comes into play. Blockchain pharmacovigilance deals with the detection, medical assessments, evaluations, monitoring, and prevention of ADRs. The apparent increase in ADRs data volume has put a lot of pressure on pharmaceutical companies to maintain records. Due to this, pharma companies are integrating Blockchain-based PV solutions to ensure drug monitoring and safety. Blockchain provides a decentralized system and evenly distributed database in terms of nodes, helping companies to fetch real-time data with just a single click.
Some other benefits of using blockchain pharmacovigilance:
- It helps create an appropriate reporting structure to assess and monitor drugs in clinical trials and post-approval.
- It helps create appropriate protocols for drug recalls, issuing warnings to patients/customers, and assures compliance.
- It creates and provides better assessment and evaluation for the drugs to ensure long-term viability for business and gain the trust of customers/ patients.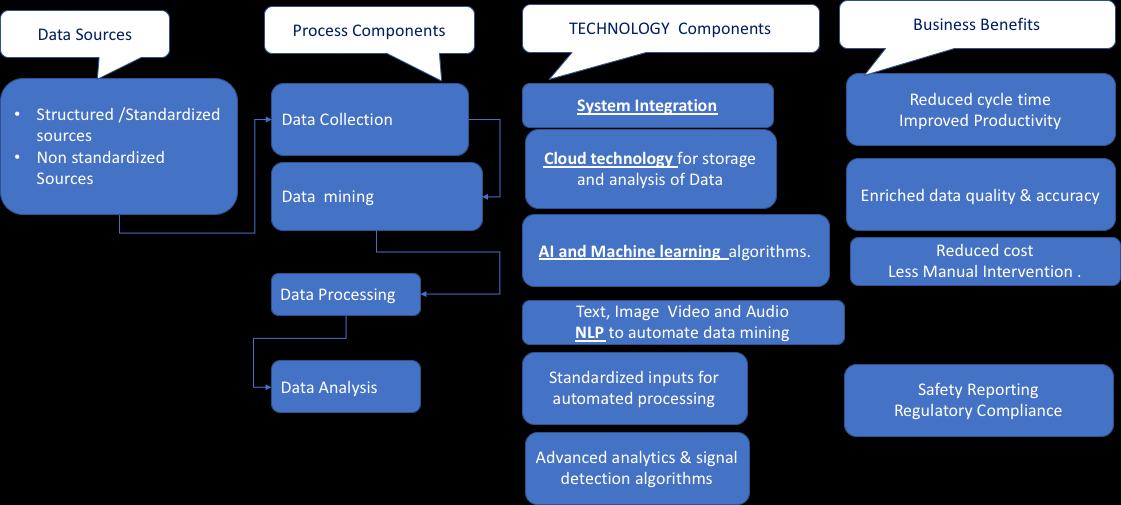 Conclusion
As you're aware that PV ensures whether a drug works and is safe to use throughout the drug lifecycle, every pharma company needs to set up a pharmacovigilance system to ensure drug safety and efficacy. However, setting up a pharmacovigilance system requires expertise in analysis, data collection, risk management planning, and writing/reporting standards. Moreover, you'll need to invest in a safety database and hire qualified experts with knowledge of the local language, regulations, and resources. These experienced PV service providers will help you meet pharmacovigilance requirements for your market authorization applications.